How are you feeling about being on lockdown? How are you coping with the change and uncertainty? How is your stress level amidst this pandemic?
I am asking these important questions because the way we respond to the fluidity of this situation has a lot to do with how well we can get through it.
As you know, in addition to being a coach, I am also a positive psychology practitioner and researcher. This past week I attended a virtual symposium in the UK on mindfulness and stress management with Dr. Rona Hart. I found it very helpful in learning how to respond to stress during COVID and in any situation.
I thought that it may be of help to you as well, so today's message is about using mindfulness strategies to help manage and cope with stress.
Stress
Stress is defined as a psychological, physiological and behavioural reaction that happens when individuals perceive that they cannot adequately handle the demand(s) being placed on them.
The key word here is "perceived" because not all demands are challenges or are threats.
Here are three key tips to keep in mind about stress:
1) Stress is part of life and is actually a natural response to danger.
2) Not all stress is bad. There is the good type of stress called "eustress" where stress is stimulated by peak performance.
On the other hand, there is the bad type of stress called "distress", which we are all familiar with. This type of stress creates fatigue, negative emotions and breakdown. If prolonged into chronic stress, the immune system is compromised and illness can occur.
3) According to Dr. Hart, we (i.e. humans) tend to "over evaluate fear and under evaluate our ability to cope". How true! We can tend to let fear rule over us and ultimately hold us back.
So the key here is to develop out ability to respond. The good news is that we can learn how to manage stress. In fact, stress management is an effective tool.
However, stress management is not mean to eliminate stress altogether because some form of stress will always exist in life. Instead, it is meant to help create habits that keep stress at lower levels.
So, what is an effective stress management tool? Enter Mindfulness.
Mindfulness
Mindfulness is a psychological process that brings one's attention to the present. Rather than automatically responding to a situation mindlessly, mindfulness helps us to choose how we will respond.
Many of you will likely have heard about Mindfulness Meditation, which has existed for thousands of through the roots of the Eastern tradition of Buddhism.
In the 1970s, Dr. Jon Kabat-Zinn developed the Mindfulness-Based Stressed Reduction (MBSR) program which is widely used today around the world. The MBSR helps people learn how to calm their mind and body in the present moment to help them cope with stress, pain or illness.
Hundreds of studies have proven that MBSR promotes health and wellbeing.
Mindful meditation is also considered as an evidenced-based Positive Psychology Intervention which is effective for stress reduction.
Resources
Here are three popular resources to help you get started with Mindful Meditation for stress reduction. It will also help whenever you feel frustrated with yourself.
The first resource is a guided meditation video for developing self-compassion toward yourself with Dr. Chris Germer
Click here to watch the video.
The second resource is a book on Mindfulness: A Practical Guide to Finding Peace in a Frantic World by Mark Williams and Danny Penman. Click the image below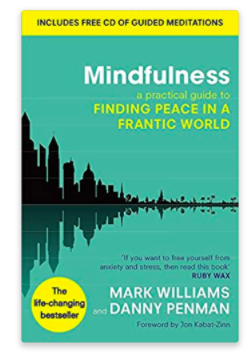 The third resource is an audio from the same book focusing on Mindful Meditation and Befriending Yourself and Loving
Kindness. Click here to watch the video.I hope that the resources above will help you in being more mindful on a daily basis. I also
hope that practicing self-compassion and loving kindness meditations will serve you in the best possible way.
Be well and stay safe.
****
You are welcome to share this Article using the shareable links below.  When you do, please be sure to include the full content below:
Meriflor Toneatto is an award-winning leadership and Positive Psychology Coach, Strategist and Entrepreneur. She has been featured in Yahoo Finance, Washington Post, Forbes, Los Angeles Times and more.
She is the CEO and founder of Power With Soul and creator of the Millionaire Difference Makers™ Path for visionary entrepreneurs.
Her book Money, Manifestation & Miracles guides women to reach financial prosperity and success while fulfilling their social promise in the world.
Meriflor helps coaches, entrepreneurs and experts turn their calling + mission into a thriving, profitable and fulfilling business that is tailored to their strengths, personality, passion + lifestyle.